The 2021 Subaru Love Promise Community Commitment Award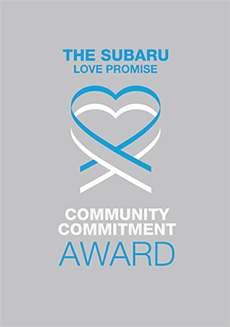 We've been nationally recognized for our dedication to our community and the Subaru Love Promise.
We're honored to receive the 2021 Subaru Love Promise Community Commitment Award. This award nationally recognizes Subaru retailers who are making the world a better place while demonstrating an outstanding commitment to supporting passions and causes in local communities. These efforts are focused in important areas such as the environment, community, health, education, and pets.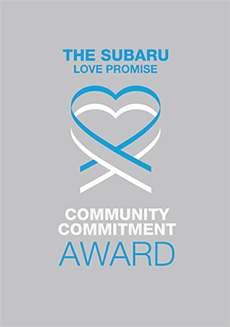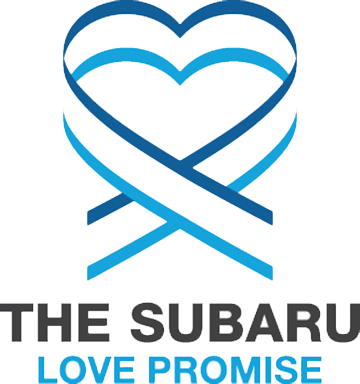 What is the Subaru Love Promise?
Subaru and our retailers believe in making the world a better place and the Subaru Love Promise is our vision of respecting all people. This is our commitment to show love and respect to our customers and to work to make a positive impact in the world.
How is Capital Subaru of Greensboro dedicated locally to the Love Promise?
Our Love Promise can be seen in various partnerships with local charities and non-profits. We're grateful for the opportunity, not only to be a part of our community, but to serve it as well.
Peeler Open Elementary School
Love Promise Stories from Capital Subaru of Greensboro
Subaru and Capital Subaru of Greensboro believe in making a positive impact on the communities in which we live and work. We uphold that belief through our Love Promise Community Commitment. Every month, we select inspiring stories from customers and partners from around our area who strive to support our collective commitment and feature them here
Now What for Widows - Ashley M
For many years we have chosen Now What for Widows as our Share the Love local charity partner. During a year when isolating was a priority, and considering that this is a part of our community that can already feel so isolated, we appreciated the service that this group offers more than ever. While properly following CDC guidelines, we briefly met with members again to share the donation from 2020's STL Event on May 28th! This group is so gracious, but really, the pleasure is always ours.
---
Triad LUNGe Forward 5K - Ashley M
For the 5th year in a row, we were able to sponsor the Triad LUNGe Forward 5K in November 2020. This great event is hosted by the Lung Cancer Initiative of North Carolina. They had to do it a little differently this year due to Covid-19, but we all made it work with a live stream of the run and virtual booths.
---
Make a Dog's Day 2020! - Ashley M
We had so much fun during this year's Make a Dog's Day. During the week of the event we were able to promote our Pet Partner, Triad Golden Retriever Rescue and some of their friends. Through TGRR we were able to make a connection with Dog Gone Fun, Tri City Canine and The ArcBarks Dog Treat Company. We hosted a social distancing block party on the 22nd with all as our guests and in front of our new facility. Through the event, and accompanying grant, we were able to help 5 special needs/elderly dogs get adopted. This year was even more rewarding than the last!
---
Frontline Healthcare Hero - Ashley M
In June of 2020 Capital Subaru of Greensboro proudly awarded a local frontline healthcare worker with a New Subaru. The selection process was determined by community nomination and the winner was chosen with an online contest held from May 1st-15th. The prize was a delivery of a brand new 2020 Subaru Forester to drive for a year, at no cost to the winner. This was the way that our dealership felt they could give back to the healthcare community during the COVID-19 pandemic. Our winner was Ms. Wendy Munro!
---
Make A Dog's Day 2019 - Ashley M
Thank you to Sara from Kinder Grooming - Mobile Pet Spa and Guilford County Animal Services for helping us #makeadogsday. With their help, we were able to give a little TLC to two amazingly sweet dogs-Stars & Odie. Both are available for adoption, along with many others. https://www.guilfordcountync.gov/our-county/animal-services/animal-shelter/animal-adoption-gallery
---
Make a Dog's Day - Andy A
Subaru is proud to establish the first-ever National Make A Dog's Day October 22nd. As part of Subaru Loves Pets month, we're inviting all dog lovers to do something extra special for their furry best friends. Plus, Subaru will be focusing our efforts on helping the hardest-to-adopt shelter Dogs –those with special needs-find homes. Get ready to fall in love withThe Underdogs. #MakeADogsDay Meet Gabi! Gabi has been at the Humane Society of NWGA (Northwest Georgia) for seven years. If you asked the volunteers to pick their favorite animal at the shelter, Gabi would win hands down. She does not do well with dogs or cats so must be the only animal in an adult only family. She loves people and will bond very quickly to you. Gabi would make someone a great companion. She is waiting patiently for her forever home. If you have room in your heart and your home for this sweet girl then please fill out an adoption application, highlight and right click this link: https://hsnwga.org/adoption/application-for-adoption/?fbclid=IwAR2Ie18p6U3ryKi-niIuIZFTd-waD98xrySl7IJmiRBXE239WP7dpODubiU #MakeADogsDay #SubaruLovesPets #TheUnderdogs
---
Giving Blankets of Hope - Jennifer M
For the second year in a row, I was able to represent The Leukemia & Lymphoma Society to work with the amazing Capital Subaru of Greensboro team to deliver blankets, inspirational cards and children's care kits to the Cone Health Cancer Center at Wesley Long. This year Ashley Murphy and Nyia Cope from Subaru joined me to meet Cone Health care providers Tim Nichols and Diane Wilson at the cancer center for this special delivery. At last year's delivery, we were told of a patient that brings her Subaru blanket from the 2017 partnership with her to all of her appointments, which was so heartwarming to hear. How amazing was it for us to see this patient just as we were coming off the elevator with the boxes of blankets! This was a complete coincidence and made the whole experience that much more meaningful. She was indeed carrying her blanket and we were able to speak with her about how much she appreciates having it for all of her appointments. This truly is an incredible partnership and I am thankful to have been a part of the day again this year.
---
Capital Subaru Supports Widows and Widowers - David B
Thank you Capital Subaru for Supporting Now What...a network for those widowed. Now What received a $23,000 donation from Subaru's "Share the Love" Program. This donation helps us provide activity, mental assessment, and spiritual well being. Now What serves over 350 widows and widowers in Guildford County. This is the fourth consecutive year Capital Subaru has partnered with Now What in this program. Thank you Capital Subaru...we could not do what we do without you!!
---
Dash for Down Syndrome 5K 2019 Sponsor - Ashley M
This weekend, along with two of our favorite Subaru Ambassadors, Tiffany and I joined the Down Syndrome Network of Greater Greensboro for their 3.21 Dash for Down Syndrome. The Down Syndrome Network of Greater Greensboro is committed to enriching the lives of individuals with Down syndrome. The money raised specifically at the Dash will fund the DSNGG's new "Dash for Your Dreams" Scholarship, which will provide local applicants with Down syndrome monetary support to help reach their dreams of attending post-secondary school or obtaining the skills necessary to procure and maintain meaningful employment. Sponsoring this event was incredibly rewarding and so much fun!
---
Spreading Warmth at Cone Health Cancer Center - Jennifer M
On the morning of Monday, July 9th, I had the privilege of joining Capital Subaru of Greensboro team members Ashley Murphy, Chantel McCurdy, Bailey Miles, and Christopher Williams to deliver blankets, care cards and craft kits to Cone Health Cancer Center in Greensboro.Upon arriving, James Harris of Cone Health had arranged for local media to attend and interview both Subaru and Cone to learn more about the special significance of these deliveries of warmth and hope.What set this delivery apart from other blanket deliveries was the addition of very special "finisher medals" that the GM of Capital Subaru thoughtfully donated.These are medals that he has collected upon completion of various 5K and Triathlon events.These medals had a special note attached and will be given to the amazing and brave patients undergoing treatment at Cone Health Cancer Center.Cone Health expressed how very appreciated the Subaru blankets are to the patients and even told of one patient that brings her blanket from last year to every one of her appointments because it brings her not just warmth, but comfort, too. What an honor to play a small part in giving back in this way and I look forward to being a part of this in the future.
---
Blanket delivery to cancer patients - Susan Y
I arrived at Capital Subaru of Greensboro on June 29th to meet them for a blanket delivery to Cone Health Wesley Long Cancer Center in partnership with Subaru and The Leukemia & Lymphoma Society. I was super excited when they greeted me and shared that they had a new employee, Terri Whiting, who was a childhood blood cancer survivor and that she would be making the delivery with us! Terri, myself, Ashley Murphy from Capital Subaru and one other Subaru team member joined in the delivery. We captured a few quick photos at the retailer before leaving for the hospital. Upon our arrival, we were greeted by Cone Health team members who had secured the media for the presentation of blankets. We were not able to present the blankets directly to the patients but instead we presented them to the lead oncology nurse outside at their care garden. Terri shared her story and the staff were so appreciative of the blankets. They had actually reached out earlier in the year to be sure we would be partnering with Subaru again because their patients had such a positive reaction last year! It was a great experience and we look forward to continuing this partnership in the future with Capital Subaru of Greensboro!
---
Subaru and NWF Loves the Earth - Sandra H
Here is a photo our children planting the plants that we received from you all. Thank you so much!
---
Now What? A Network For Widows - David B
"Now What?" A Network for Widows, helps raise awareness that widows need help, as well as connects them to resources that can offer expertise, support, and encouragement. Capital Subaru of Greensboro has offered to partner with Now What? to provide valuable assistance in several different areas. Most widows have no idea of how to purchase and/or take care of an automobile. Generally, that has never been their responsibility. The team at Capital Subaru of Greensboro assist our widows in an honest, fair, and friendly manner that gives them comfort and peace of mind in an area they know nothing about. In addition, Capital Subaru of Greensboro provides financial support through Subaru's "Share the Love" program. This money enables Now What? to provide programs and events that helps us continue to raise awareness and support for widows. Now What? is grateful to Capital Subaru of Greensboro for their continued support of Now What? and to the widows of Greensboro.
---
Capital Subaru supports local school - Sandy H
Peeler Open Elementary School was thrilled to learn we had been picked for the Subaru Loves Learning initiative. Science is a main focus of our curriculum and we are delighted to receive numerous books from Capital Subaru of Greensboro to support the education of young children in our community. We will be using these books to enrich our students learning environment for years to come. Thank you Capital Subaru of Greensboro, your staff and customers for supporting the local schools and community.
---
Capital Subaru Gives Back - Susan Y
On behalf of Capital Subaru and The Leukemia & Lymphoma Society, I wanted to take a minute to say thank you so very much to each and every one of you for organizing such an incredible experience today during the delivery of the blankets for patients. From the minute we walked in, it felt like we were a part of something special and we are so grateful to have the chance to have a small impact on the cancer patients being treated at Cone Health Cancer Center. We enjoyed the opportunity to meet Dr. Windham, take a tour of your state-of-the-art facility and learn more about the work you are doing with local patients and their families. It was also nice to meet Dr. Gorsuch during our visit. Please share this with them and I will also follow-up in a separate email. Thank you all again for just a wonderful day and we hope that your patients will know that they are being thought of by so many and feel the warmth that we hoped to deliver with these blankets. Thank you for your dedication in the fight against cancer.
---