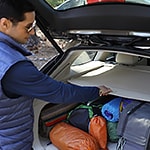 SUVs have proven to be great choices for many customers at Capital Subaru of Greensboro. They have a lot of interior space, and they can hold a considerable amount of cargo, especially if their back seats have been folded down.
When you're transporting cargo around Greensboro, NC in your cabin, make sure any passengers aren't affected by it. They'll need full access to their seat belts. Also check to see if anything could potentially roll into the front footwells, under the pedals, when you turn or hit the brakes. This could create a very dangerous situation.
As you configure cargo in the back, load your heaviest items first. This can help you maintain the vehicle's center of balance, and those items can be pushed up directly against the rear seatbacks so they don't slide around too much. Try to keep things balanced, and try not to have any items blocking your line of sight.